Famed Aviator Amelia Earhart
Visited Norristown 83 Years Ago
Gave Stunning Talk at Norris Theatre
By Jack Coll
On Thursday March 19, 1936, Amelia Earhart was in Norristown Pa. helping celebrate the Norristown Business and Professional Women's Club 50th Anniversary, (founded in 1886). A year later Earhart wanted to take a monumental flight and be the first woman to fly around the world, her first attempt in March of 1937 resulted in a failed attempt that severely damaged her plane.
Sixteen months after her stay in Norristown on June 1, 1937, Earhart and her navigator Fred Noonan made a second attempt and departed from Miami to begin their 29,000-mile journey. By June 29, when they landed in Lae, New Guinea, all but 7,000 miles of the trip had been completed. Following the Lae lay-over Earhart and Noonan headed for Howland Island in the mid-Pacific. Howland Island is a mile and a half long and a half a mile wide, every unessential item was removed from the plane to make room for additional fuel, which gave Earhart approximately 275 extra miles.
On the morning of July 2, 1937, the 39 year aviator and her navigator took flight, late in the day all radio contact was lost and Earhart never reached her destination. A rescue attempt commenced immediately and became the most extensive air and sea search in naval history. Nearly three weeks later after spending $4million and scouring 250,000 square miles of ocean, the United States government reluctantly called off the operation.
Earhart was no stranger to the Norristown/Montgomery County area, in 1917 she attended the Ogontz School for Girls in Rydal with plans of attending Bryn Mawr College for a possible career in medicine. An airplane ride with Aviator George Hawks changed all that.
In 1931 Earhart spent time in Horsham where she piloted an autogiro nearly three and a half miles skyward to establish a new altitude mark for the "Windmill." These planes were manufactured at the Pitcairn Factories in Horsham.
Earhart made quite an impression on Norristown residents during her short stay. During her talk at the Norris Theatre, (once located on Main Street) she thrilled the sold out crowd with her stories and adventures of being the first women to set so many records and talked of her daring feats including her history making solo flight across the Atlantic and her record breaking flight from Honolulu to Oakland California crossing the Pacific Ocean.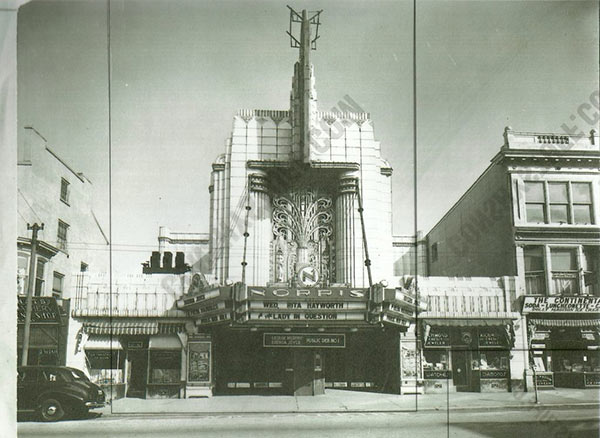 Amelia Earhart took a lot of pride in designing her own clothes and was a strong advocate for woman's rights and predicted female pilots would be flying commercial planes in the near future.
Miss Earhart was scheduled to leave Norristown following her speech and travel to Reading for the night but massive flooding in up-state Pennsylvania canceled appearances in Beaver Falls and Pittsburgh. So Earhart decided to stay in Norristown for the evening and booked a room at the Valley Forge Hotel on Main Street.
This allowed her time to sit down with two reporters from the Norristown Times Herald and she also granted an interview with Boyd Hill and Stanton Felt, representatives of the Eisenhower High School newspaper.
The following morning Earhart posed for pictures outside the Valley Forge Hotel before leaving to drive to her next lecture in Cincinnati, Ohio. It was noted in the Times Herald that her lecture in Cincinnati would also likely be canceled due to heavy flooding in Ohio.
While Amelia Earhart didn't charge a fee for speaking she did request traveling expenses. So the Business and Professional Women's Club of Norristown charged one dollar for seating at the Norris Theatre, fifty cents for standing room. The sold out crowd enabled the Women's Club to cover all of Earhart's expenses.
The 1930's was a time when the nation didn't have a lot of female role models and Amelia Earhart was certainly not just a female role model but an international hero and Norristown was lucky to have her visit even if it was less than a 24 hour visit.