Conshohocken Black History
A Lot To Be Proud Of!
By Jack Coll
According to Wikipedia, Black History Month is an annual observance in Canada, Ireland, the Netherlands, the United Kingdom, and the United States. It began as a way for remembering important people and events in the history of the African diaspora. It is celebrated annually in the United States and Canada in February, as well as in the United Kingdom, the Netherlands and Republic of Ireland in October.
The precursor to Black History Month was created in 1926 in the United States, when historian Carter G. Woodson and the Association for the Study of Negro Life and History announced the second week of February to be "Negro History Week." This week was chosen because it coincided with the birthday of Abraham Lincoln on February 12 and of Frederick Douglass on February 14, both of which dates black communities had celebrated together since the late 19th century.
From the event's initial phase, primary emphasis was placed on encouraging the coordinated teaching of the history of American blacks in the nation's public schools. The first Negro History Week was met with a lukewarm response, gaining the cooperation of the Departments of Education of the states of North Carolina, Delaware, and West Virginia as well as the city school administrations of Baltimore and Washington, D. C. Despite this far from universal acceptance, the event was regarded by Woodson as "one of the most fortunate steps ever taken by the Association."
At the time of Negro History Week's launch, Woodson contended that the teaching of black history was essential to ensure the physical and intellectual survival of the race within broader society:
"If a race has no history, it has no worthwhile tradition,
it becomes a negligible factor in the thought of the world,
and it stands in danger of being exterminated.
The American Indian left no continuous record.
He did not appreciate the value of tradition; and where is he today?
The Hebrew keenly appreciated the value of tradition, as is attested
by the Bible itself. In spite of worldwide persecution, therefore,
he is a great factor in our civilization."
Black History Month was first proposed by black educators and the "Black United Students" at Kent State University in February 1969. The first celebration of Black History Month took place at Kent State one year later, from January 2, 1970-February 28, 1970.
Six years later, Black History Month was being celebrated all across the country in educational institutions, center of Black culture and community centers, both great and small, when President Gerald Ford recognized Black History Month, during the celebration of the United States Bicentennial. He urged Americans to "seize the opportunity to honor the too-often neglected accomplishments of black Americans in every area of endeavor throughout our history."
Over the years dating back to late 1700's, long before Conshohocken was incorporated as a borough, Edward "Ned" Hector settled in the village of Conshohocken and became the town's first black resident. I've written a lot about Hector over the years who was a Revolutionary War Hero and in 1853 Conshohocken Borough Council voted to rename Barren Hill Road to "Hector Street," in honor of Ned Hector. The honor of renaming a street after an African American very well could have been the very first time in America that a street was named in honor of a black man.
Over the years I've written many times about dozens of borough leaders both past and current. My research on Conshohocken residents has taken me back to the 1820's, and I've concluded that the most influential person, in my eyes and mind- who has contributed the most to our community was Rev. Marshall W. Lee.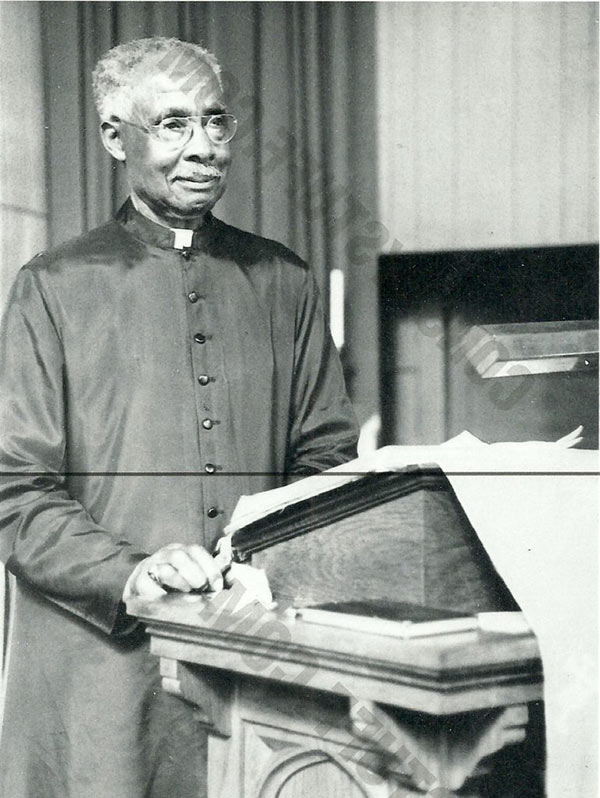 Rev Marshall Lee's father Abram Lee, was a former slave and later a preacher who was instrumental in founding the Galilee Baptist Church in Roxborough. Abram had 13 children, the youngest daughter died as a baby, Marshall William was the youngest of the twelve remaining children.
Marshall in the early 1920's founded St. Paul's Church and also coordinated the transportation of African American laborers into Conshohocken from the South to work at Alan Wood Steel. During his life Lee was the vice chairman of the Montgomery County Housing Authority, (in which he served 34 years), vice president of the Conshohocken Visiting Nurse Association, (which was a very important organization back in the day), he served as treasurer of the Conshohocken Borough Authority and as a director of the Red Cross of Montgomery County.
In 1973 Marshall attended the grand opening of the "Marshall W. Lee" Towers, built at Third Avenue and Fayette Street to house elderly Conshohocken residents. Lee's works and accomplishments were many in his lifetime and his love for Conshohocken was undeniable.
A few other prominent Conshohocken African Americans highlighted in the book, "Conshohocken & West Conshohocken, People, Places and Stories" written by Jack and Brian Coll include, Olive Lee Banks, born in 1911 and died in 2015. Olive was the daughter Marshall Lee and grand-daughter of Abram Lee. Olive completed an engineering drafting course at the Murrell Dobbins Vocational School in Philadelphia, she was the only African American in her class. Securing a job in drafting in the early 1930's as an African American female with no experience was nearly impossible but Olive landed a job at the E. G. Budd Manufacturing Company as an engineering draftsman. Again she was the first African American female to work at the Budd Company.
Olive left the Budd Company and later worked for the Federal Government at the Philadelphia Signal Depot and in 1949 she joined the Montgomery County Planning Commission Staff. In 1962, Olive became the first African American official of the Montgomery County Republican Committee. All of Conshohocken's residents looked up to Olive both male and female as a strong individual, a community leader and teacher in her church.
Rev. James Groves was born on May 20, 1933, in Anderson, South Carolina. He was the son of a sharecropper James and Gladys Groves. At the age of five his family moved to West Conshohocken and started school in the west side borough before moving to Hector Street. James attended Conshohocken High school where he played saxophone in the high school band and shared co-captains for the 1951 undefeated football along with Russell Graham.
In the summer of 1952 James and his then girlfriend Wilhelminha Williams eloped to Elkton, Maryland and upon returning to Conshohocken he took a job with the Alan Wood Steel Company and started attending classes at Ursinus College. James was drafted into the U. S. Army where he was dispatched to France just as the Korean War was winding down.
James started assisting Rev. Marshall Lee at St. Paul's Church as a layman and attended theological classes. Upon Rev. Marshall Lee's retirement after 51 years of service to the church and community James Groves was ordained and installed as the second pastor of St. Paul's Church in 1977.
I worked with Rev. Groves on a number of committees over the years including the Fellowship House and the Borough's Sesquicentennial Celebration Committee. Rev. Groves was a great man, a good father, a community leader and someone the borough's children could look up to.
Rev. Groves daughter Darlene was also a great Conshohocken inspiration. Darlene served on many of St. Paul's Church committees, was the first African American principal at Conshohocken Elementary School and the first female African American to become a board member at the Fellowship House. Before retiring she was a superintendent at Cheltenham School District in Montgomery County.
John F. Street will best be recognized and remembered for his time spent on Philadelphia City Council and as Philadelphia's second African American Mayor. Street was elected to Philadelphia City Council in November 1979. In 1992 he was elected City Council President and again in 1996. On November 2, 1999, Street was elected to serve as Mayor of the City of Philadelphia where he remained for two terms.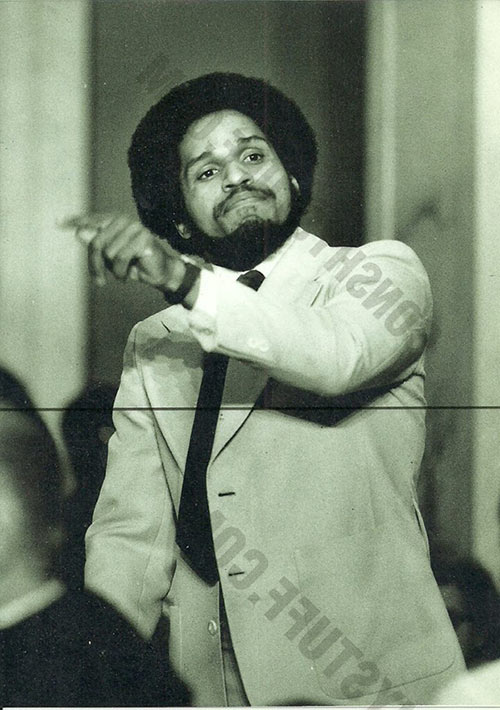 John Street was born and spent his childhood at 596 Swedeland Road, a 110-acre farm in Swedeland Pa. and coincidently my father-in-law Paul "Roger" Touhey was born in that very same house a few years before James and Betty Street moved onto the farm.
The Street's moved their family to Conshohocken in 1956 where they lived on West First Avenue, John was eleven years old when he moved into the borough. John along with his brother Milton attended Conshohocken High school once located at West Seventh Avenue and Fayette Street. John starred in basketball and played football.
John Street is a great example of an African American who grew up in Conshohocken and reached for the stars setting a good example all along the way.
Then there was Frank Morgan, Frank was Conshohocken's first African American to serve on Borough Council opening the door for many African Americans to follow in his foot-steps. Frank was sworn in as a council member on Wednesday April 8, 1981. For more than a hundred and thirty years the borough had been represented by an all-white male council until Frank was sworn-in. Lucius Carter, Hector "Bunkey" Noble, James "Ike" Griffin were a few of the African Americans to follow in Frank Morgan's footsteps becoming councilman.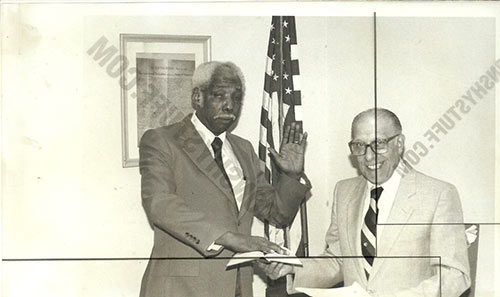 Reid Todd was a talented artist who graduated from Conshohocken High School in 1940, and became a World War II veteran, Private First Class and served with the 651st Motor Ambulance Company where he received a number of medals and Service Stars. Reid later served his hometown of Conshohocken as a first responder with the Washington Fire Company. Perhaps Reid is best remembered for lettering Soap Box Derby Cars, and painting his trademark "Eye" on the car.
George Bland was Conshohocken's first African American Police Officer, other officers to followed George included Archie Bell, Archie Graham, Ricky Morgan and Jonathan Palmer.
Louis Mason was the first African American to serve on the borough's Civil Service Commission. Carrie Duckett was a founding member of the Colonial Neighborhood Council in 1967. Bob and Reid Nixon were the borough's first African American Firefighters having served in the early 1900's and Pearl Duckett was the borough's first African American to be employed in the offices of the borough.
Everett Thompson is considered the borough's first great black athlete in a long history of African American standouts both male and female's in the history of Conshohocken sports. Thompson was a track standout under legendary Conshohocken High school coach Pop Irwin. Everett Thompson went on to the University of Pennsylvania where he set a number of records in the college ranks and was a 1978 inductee into the Conshohocken Sports Hall of Fame. Everett received his D. D. S. from the University Of Penn Dental School and ran a successful Main Line practice for many years before retiring.
Nationally, when we look for African American inspiration, African American role models and African American hero's we look at Martin Luther King Jr., Booker T. Washington, James Langston Hughes, Sojourner Truth, and so many others.
In Conshohocken we are rich with African American history with men and women who have shown leadership, men and women who have become an inspiration to both black and white children.
If you're interested in changing the world, eliminating hate, building a better future, it starts with our children, we must educate them, and lead by example. The Conshohocken residents listed above is a great start when looking for examples to point-out.