Making History – Ellen T. "Nellie" Ruser
by Jack Coll
MAKING HISTORY
Conshohocken Prominent Female Residents
Ellen T. "Nellie" Ruser
In Honor of "Women's History Month"
By Jack Coll
March 8, 2019
I recently wrote an article about famed female aviator Amelia Earhart whom I idolized for her nerves of steel and the quality of person she was. As I was writing about Earhart it brought to mind another female aviator named Ellen T. Ruser, a long-time Conshohocken resident.
In honor of "Women's History Month" I'd like to tell you about Ellen, man, she was some lady!
Information below was taken from the book "Conshohocken & West Conshohocken People, Places and Stories" Volume One written by Jack and Brian Coll.
Ellen T. (Coyne) Ruser, often called "Nellie," was born in 1889, to her parents John Coyne and Ellen Mellon Coyne Rempp. Ellen graduated from St. Matthew High School and attended St. Matthew Church most of her life. Before moving to Trumbauersville, Pennsylvania located near Quakertown, with her four children, Ellen was a lay teacher for many years at St. Matthew High School where she taught sixth grade. Ellen moved to a 54 acre farm in Trumbauersville where she raised a number of farm animals.
When Ellen was 64 years old she started to take flying lessons at a Bucks County airport, within months the 64 year old grandmother made history in Bucks County when she passed her solo airplane flying test at Quakertown Municipal Airport becoming the oldest person to accomplish this fete.
Ellen had a thing for flying when she was growing up but the mother never had time to pursue her fancy, she often wanted to take flying lessons at nearby Patco Field but just never had time.
When Ellen made history in 1953 by obtaining her solo flying license her fete went national as a television crew filmed her second solo flight and her accomplishment and her face was plastered in newspapers and on television around the country, she was dubbed, "The Flying Grandmother." Personal appearance request came from all over the country, within days Ellen traveled to Chicago to appear on a national program called "Welcome Travelers."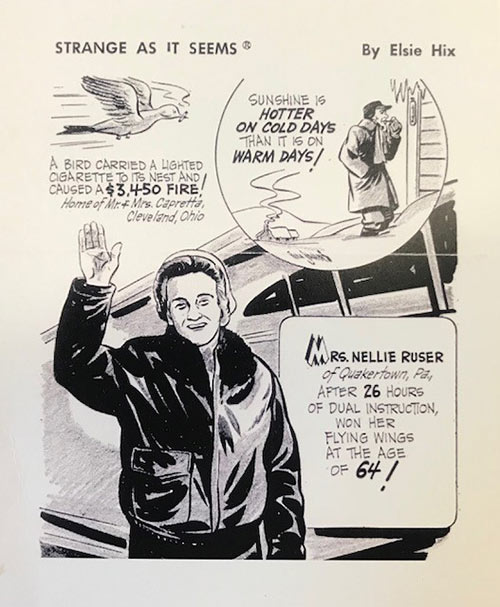 After leaving the teaching ranks Ellen worked at a clerical post with the United States Navy Department in Allentown. During World War II she was employed by the Army Department in the Pentagon Building in Washington D. D., and she later transferred to the Frankford Arsenal.
Upon securing her solo pilot's license Ellen was presented with five shares of stock in the Quakertown Municipal Airport by airport executives because of her success as a pilot.
In the week following her accomplishment Ellen held a party at her 54 acre farm with more than 100 family members and friends in honor of her achievement. George Setman, president of the air field and other executives of the airport attended. Guest from the Conshohocken area attending the event included Mary Maloney and her children, Mr. and Mrs. Robert Carroll and their three daughters, Rita DiGurcia, and John Phipps.
The grandmother of 21 grandchildren at the time continued to increase her air hours making her eligible for a private license enabling her to carry passengers, which was also a first.
Ellen had a sister Cathrine Coyne who managed the State Employment Offices back in the 1950's and a brother Thomas Coyne, who was a contractor responsible for many of the borough's buildings and served as President of Town Council from 1932-1935.
Ellen passed away in October 1962 at her daughter's house Mary Maloney. Mary who owned and operated a catering business on East Ninth Avenue for more than 30 years was one of Ellen's four children that also included Augustus, John and Phillip. Ellen had 23 grandchildren and 21 great grandchildren.
So there you have the story of Ellen "Nellie" Ruser of Conshohocken, who was perhaps inspired by Amelia Earhart known as "The First Lady of Flight." Amelia Earhart made several appearances in Montgomery County as did famed female aviator Ruth Nichols. Ruth Nichols along with Amelia Earhart in 1929 were founding members of the Ninety-Nines, an organization of licensed women pilots. In the late 1950's Nichols became the first and only woman at that time to obtain a hydroplane license.
By the time Ellen obtained her pilots license in the early 1950's female pilots were still a rare breed. The borough of Conshohocken has a long list of courageous females. Watch Conshystuff for our next article on prominent female residents.
Hey, Thanks for the Memories!