Taking a minute to recall an old friend
Hey Robbie, I wish we spent more time together
By Jack Coll
4-23-19
Word reached me about the passing of an old friend on April 12, 2019. Robbie Cermanski had passed away following a long illness. Robbie and I were two peas in a pod, Robbie was a West Conshohocken kid with a bit of a reputation and I was a kid living in Hughes Parks with city street smarts. We met in fifth grade at Gulph Road Elementary School located just outside of Hughes Park which butted to a neighborhood called School Line Drive. We were both hard-headed, we both had life all figured out when we met, and neither one of us would ever back down from a scuffle.
Just a month or so after we met we had a day of bonding when both of us, along with a friend Ronnie "Rat" Bearoff and another kid from West Conshohocken but I just can't remember if it was Bobby Shore or one of the Watson Brothers, forgive me if I'm wrong, well we decided to play hooky from school for a day, remember, we were in fifth grade.
So off we went looking for adventures in the neighborhood. We found ourselves in this big old barn located on Crooked Lane near Gulph Road, I later learned the barn belonged to a Mr. Bershack. (The barn is still intact) We must have played in the barn until after lunch, the barn was loaded with old bikes, go-karts and other goodies that eleven year old kids would be interested in. So three of us had decided that we had enough of exploring both levels of the barn and wandered out of the barn and down Crooked Lane onto School Line Drive.
Suddenly a cop pulled up in an unmarked car and out crawled Joe Dudis, the township juvenile cop and he was not a welcomed site, it was the first of many encounters I would have with Joe in years to come. The first thing out of his mouth was "Aren't you kids supposed to be in school?" We did our best to tell the truth explaining we thought we had the day off, it was just about then that Robbie came flying down Crooked Lane in the go-kart from the barn, he came screaming past us yelling in an excited voice, "I got it running" and made a left-hand turn and kept going, I remember the cop saying who was that, to which I replied "I've never seen that kid in my life." It was then that Robbie and I became life-long friends, we didn't have to be in the same room or even the same part of town but we always had each other's back.
As we got older we bonded during school as we moved from the Gulph Road School, to the old Upper Merion High School on Gulph Road for seventh grade, and while both of us went out for football in seventh and eighth grade, I remember the two of us spent our time sitting on the sideline as I don't think either one of us remained on the team into the season.
While the both of us enjoyed a number of scuffles together in our day I think the other thing I'll always remember along with the go-kart incident is the time Robbie drove his 1961 bronze Chevy thru the wall of the Burger King Building on Route 202. Burger King was the place to be in the late 1960's and early 1970's, if you were cool enough. (ha-ha) I arrived at Burger King minutes after Robbie ran his car through the front wall, I remember asking him what the hell happened, he said something like, "I don't know what the hell happened, I just ran into the wall."
It wasn't long after that he married one of the best looking girls in the school Cathy Macklem and I married Donna, We always agreed that we married the right girls because both Robbie and I straightened up, after listening to no-one our entire short lives we managed to always listen to our wives who managed to make both of us good men and great fathers.
Robbie and I last saw each other at an Upper Merion 1972 Class Reunion celebration. We laughed and talked, and caught up and of course we said we'll get together. He was extremely happy and spent most of the night talking about helping raise his grandchildren, but not long after that I was informed by Robbie's cousin Ed Cermanski that Robbie was in critical condition from a work related accident.
I wish I had visited him more often and I wish we would have reconnected and shared more of our lives together, at our age we've all lost people we know, it just hurts when one of the good guys leaves us way too early.
I enjoyed my time with Robbie, he made me laugh, even though we didn't get a lot of time together in recent years, I'll miss him for the rest of my life.
The heavens have claimed too many friends of mine from the class of 1972 including Ronnie Bearoff, loved playing guitar with him for many years, Phil Ceccola, a photographer brother who enjoyed taking perhaps thousands of photographs of his friend Bruce Springsteen, my old best friend for a time Pat Collins, and Sheila Collins, another good friend Jimmy Dana, funny guy, Jeff Eagle, Barry Rudegeair, Joey Sheetz, Glenn Snyder, and a real good friend of mine Jeff Smith, "Smitty."
Rest in Peace Robbie.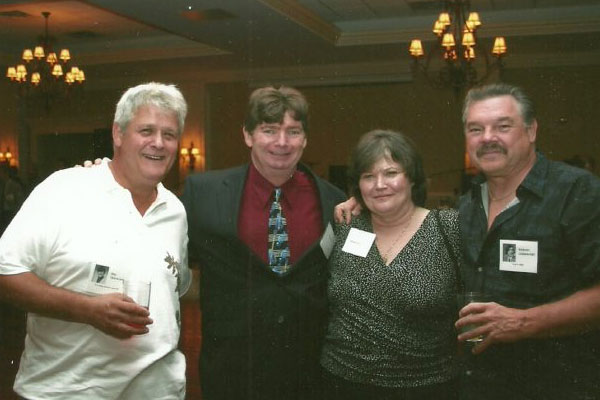 In the photograph above at a class reunion from left was Joe Travaline, myself Jack Coll, my wife Donna and Robbie, we were all happy then, life was good.