If you haven't tried Insomnia Cookies yet, tomorrow might be the day for you. From 5-7 they are offering special deals, giveaways and more.
They are located at 121 Fayette Street if you aren't sure about where they are located.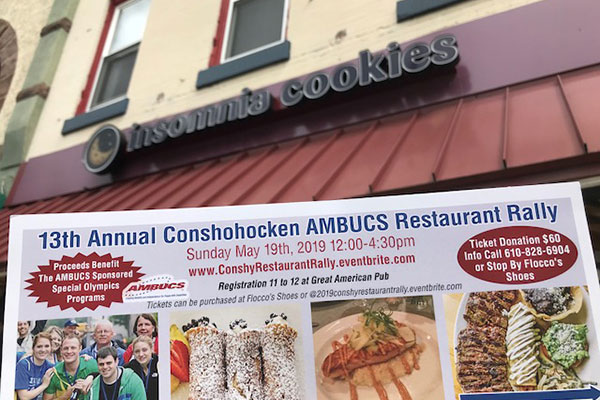 Now….. Up until this past weekend I had never tried Insomnia Cookies, since this weekend started I have had them 3 times. Once on Friday night around 10:30 at night when we were enjoying a night out in Conshohocken at the store in between stops at the Great American Pub and El Limon. Then I ordered a cookie birthday cake to be delivered the next night for a last minute surprise for my wife Anna (that is her in the picture at the top as we tried it out that Friday night) in addition to the birthday cookie cake I ordered a regular cookie as well as an ice cream chipwich thing that was so cool. They pack the ice cream separately so you can make it at home. And, today, I had Insomnia Cookies for the 3rd time as someone dropped a couple cookies off. I'm a fan.
Since I've only been in the store once, I can't tell you everything they offer. I know they are open late and the cookies are served warm and fresh. Check it out for yourself and let us know what you think.