Flashback Friday Photo
8/16/2019
by Brian Coll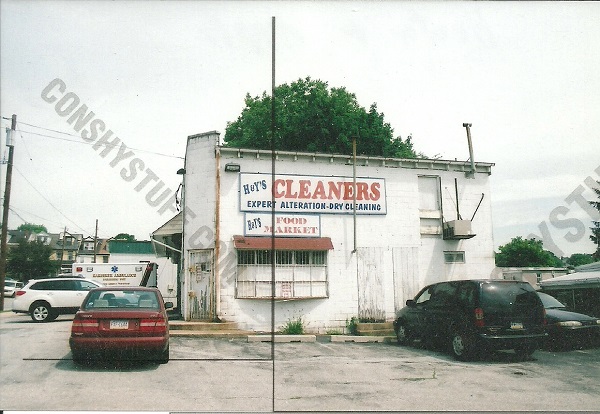 This wasn't that long ago, 2010 when Hoy's sign was still there. Now it is home to the Narberth Ambulance. Before we had Narberth Ambulance we had Pleasant Valley Ambulance Service here ( they created the Conshohocken monopoly game back in the 90's). We are lucky to have these men and women here in our community. Thank you Narberth Ambulance. Here is a brief history of the Narberth Ambulance Company taken from their website:
In 1944, residents of Narberth Borough decided to provide routine transportation for those involved in the war from the ports of Philadelphia. Incorporated as the Volunteer Medical service Corps of Narberth and now known as Narberth Ambulance has evolved on the years, their main goal was to provide first aid care and to do non emergency transports. As times changed, and emergency medical services grew, Narberth Ambulance quickly became the provider of emergency medical services not only to Narberth Borough but to all of Lower Merion Township. By 1981, paramedics were incorporated into the organization, and Advanced Life Support service was now available for emergencies.
In 1990's, the squad outgrew its headquarters in Narberth Borough. A successful capital campaign was initiated, resulting in the funds to move into its current headquarters in Ardmore, a central location in the township.
In 1999, Pleasant Valley Ambulance was integrated into Narberth Ambulance, providing ALS services into Conshohocken & West Conshohocken. This integration also helped reduce response times to the western end of Lower Merion Township and the Schuylkill Expressway. With the integration of Pleasant Valley Ambulance, a basic life support unit, VMSC was able to bring advanced life support services based in the Conshohocken & West Conshohocken area for the first time.
Narberth Ambulance is an organization built on the countless hours of work from its volunteers and career staff, working together for over seventy years. Growing from one station with 2 ambulances into an EMS service incorporating 2 stations, 7 ambulances, 2 responder vehicles & 1 Mass Casualty / Rehab bus. Narberth Ambulance now responds to over 6100 calls a year. Today, the staff includes 30 full time employees and over 80 volunteers, continuing to give time & service to the residents of Lower Merion, Narberth, Conshohocken & West Conshohocken