EMIDIO CARDAMONE WAS THE MAN
CARDAMONE ESTABLISHED CONSHOHOCKEN LITTLE LEAGUE
By Jack Coll
8-23-18
My wife Donna and son Brian were quick to point out to me a photograph posted on Facebook about two weeks ago. A photograph run by CONSHYSTUFF.com taken 63 years ago was reposted by Elizabeth Cardamone Rotondo. The photograph shows Elizabeth's father Emidio with other Conshohocken Borough Officials along with members of the newly formed Conshohocken Little League on opening day in 1955.
Little League Baseball was founded in 1939 and incorporated January 8, 1950, under New York State Law. Just five years later a number of guys mostly from West Third Avenue were sitting around the Conshohocken Bocce Club, (CBC) in the winter of 1955. Emidio Cardamone was among the guys that included Franny Carr, Joe Connelly, Bill Carr and Ange Damico among others. Mr. Cardamone insisted that a Little League Baseball team in Conshohocken would prove to be very successful. Cardamone formed a committee who recruited a number of businessmen and borough officials to help run the newly formed league. With Franny Carr named the league's first President, Carr and Cardamone recruited Charles Butera as League Commissioner, (other commissioners were later named) the borough's secretary David Hayes was both secretary and treasurer for the newly formed league. George Russell, Joseph Purcell, Elmer Munro and Mr. Cardamone were all members of the executive committee.
Cardamone along with members of the Board of Directors raised money for uniforms and equipment. The Board of Directors set up the league with four teams, 12 players on each team totaling 48 players between the ages of 8-12, more than 200 Conshohocken boys turned out to try-out for one of the 48 positions available. Forty years later in the mid 1990's when Bob Frost was President of the league nearly 500 Conshohocken children were playing little league baseball at Sutcliffe Park.
The first four team sponsors in 1955 included the John Wood Manufacturing Company who sponsored the Blue Jays who were managed by Lou Capelli with assistant coaches Larry Hissner and Joe Slovak Sr. Members of the team included Eugene Cichetti, Robert Graham, Frank Graham, Jimmy DiCiurcio, Tyrone Smith, Tommy Moore, Joe Slovak Jr., Calvin Flowers, John Vischio, Joe Mariani, John Bernheiter, Ted Pierce, Ken Hissner, Tony Moore and Dave Havener.
The Robins were sponsored by the Conshohocken branch of the Philadelphia National Bank. The Philadelphia National Bank of Conshohocken was the longest running sponsor in the league's history. The team was managed by Jim McDonnell, assistant coaches included Joe Novak and Joe Connelly Sr.
Members of the 1955 Robins team included Abe Kitt, Jerry Hamaday, John Novak, Joe Connelly, Dave Moore, Ed Fritz, Johnny Galie, Johnny Pasqualini, Francis O'Donnell, Joe Bruno, Bobby Storti, Joe Wodarski, Tony Chiriano, John Kelly and Joe Lepere.
Joe McFadden managed the Cardinals along with his assistant coaches Frank Greene and William Celi. The 1955 Cardinals were sponsored by the Conshohocken Kiwanis Club. Members of the Cardinals team included Joe Licata, Roger Allen, Jimmy Shivick, Phil Gravinese, Dave Licata, Joe McFadden, Elwood Lebold, Dennis Clark, Joe Romano, Jim DiDonato, Mike Ethridge, Joe Wloszczyna, Joe Bello, Leonard Rakowski, and James Sanders.
The fourth team to play in the 1955 Conshohocken Little League was the Orioles who were sponsored by Local 227 United Rubber Workers. A young Ange Damico managed the club along with his assistant coach Francis Palazzi. Ange went on to coach the Orioles for eighteen seasons and also coached Conshohocken Midget Football. Players on the 1955 Orioles included Ed Palermo, Jack Mahoney, Bill Dueber, Anthony Girid, Joe Cross, Joe Logan, Germaine Ciavarelli, Buddy Pope, Francis Blake, Gerald Burt, George Schools, James Krieder, Archie Graham, Norman Moyer, and Billy Collins.
(Please forgive for any mis-spelled names, the names were taken from notes that I had from thirty years ago)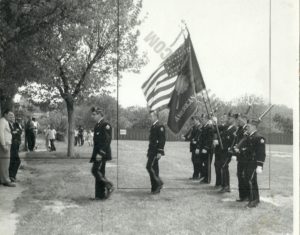 Opening Day ceremonies were held on May 30, 1955 at Rossi Memorial Field once located behind the Conshohocken Bocce Club on West Third Avenue. May 30, was a beautiful spring day that brought out members of the community along with friends and family members of all the players to witness the opening day ceremonies hosted by the Conshohocken American Legion. The Conshohocken High School Band also performed at the event. Short remarks were made by Franny Carr, League President and Kim Custer, former Southeastern Pennsylvania Little League Commissioner. Mickey Rossi, for whom the field was named threw out the first pitch, Mickey was a World War II Veteran. Other officials who participated in the ceremonies included David Hayes, League Treasurer and John Andrey, Presidents of the Conshohocken Bocce Club.
The Blue Jays recorded the victory in game one with a 3-2 win over the Cardinals. Game two saw the Orioles with a 12-4 lead over the Robins going into the final two innings of the game. The Robins recorded nine runs in the final two innings winning the game 13-12.
Building and preparing the Rossi Memorial Field was no easy task and Emidio Cardamone pointed out the members of the field committee that included Paul Leister, Jacob DiJenno, Joseph Carr, and Vincent Toole. The committee was tasked with building an outfield fence that was constructed in the garage behind Franny Carr's Tavern once located at Tenth Avenue and Fayette Street. (Later the site of the former American Bank)
The wooden fence that was constructed for Rossi Memorial Field was moved in 1959 when Ray and Phil Gravinese, Big John Cassinelli and Reds Jefferies along with a number of other men constructed the Little League Field at Sutcliffe Park. The wooden fence was dismantled piece by piece and reinstalled at Sutcliffe Park.
The Robins won the season championship and more than 200 people attended the first annual league banquet held at the CBC to celebrate the success of the inaugural season.
And so it was, more than 60 years ago that East Third Avenue resident Emidio Cardamone, sitting on a bar-stool at the Conshohocken Bocce Club on a bitter January night proposed the formation of a little league baseball organization in Conshohocken, and a bunch of young men jumped on Cardamone's idea to help make it a reality.
Looking at that opening day photograph that Elizabeth Cardamone had reposted, let's take a minute and thank the men in the photograph from left: Francis Carr on crutches who served as the master of ceremonies on that day; Joseph Novak, Conshohocken Little League Commissioner; Emidio Cardamone, founder of the League; Art "Tuti" Andrey, umpire for the opening day game, Tuti went on to become a long time coach and umpire in the league serving more than 40 years; Louis Cappelli, James "Pat" Mellon, Burgess of Conshohocken of Conshohocken throwing out the first pitch, (Along with Mickey Rossi not in photo) and Bob Carroll, League Commissioner.
It's a great photograph taken by Jules C. Marsella who for many years had a photography studio once located at 332 DeKalb Street in Norristown. I just wanted to acknowledge Marsella and thank him for capturing this wonderful moment in time allowing all of us to share this memory all these years later.
Thanks for the memory Jules.